Asian Pacific Heritage Month at Northwest
May is Asian Pacific Heritage Month. To celebrate, Northwest staff would like to shine a spotlight on the New Zealand film industry. Here is a small selection of films currently availabe in the Harris County Library's collection.
Hunt for the Wilderpeople
Raised on hip-hop and foster care, defiant city kid Ricky gets a fresh start in the New Zealand countryside. He quickly finds himself at home with his new foster family: the loving Aunt Bella, the cantankerous Uncle Hec, and dog Tupac. When a tragedy strikes that threatens to ship Ricky to another home, both he and Hec go on the run in the bush. As a national manhunt ensues, the newly branded outlaws must face their options.
Flight of the Conchords
Two New Zealander friends experience life, love, friendship, all the usual stuff, while trying to make their lives as a rock band. Despite living as Big Apple bohemians for over a year, Jermaine Clement and Bret McKenzie remain hopelessly out of place in Manhattan. Will they ever find excitement, romance, and the elusive paying music gig?Unfortunately, they're a rock band that can only schedule a performance at the local aquarium, and they have only one fan.
Whale Rider
The Whangara people believe their ancestor Paikea was saved from drowning by riding home on the back of a whale. The tribal group has since granted leadership positions to the first-born males, believing them to be descendants of Paikea. But then a young mother dies in childbirth along with her newborn male son. His twin sister survives and the little girl, Pai, is brought up by her grandparents. Learning the skills of chiefdom from her uncle, Pai shows that she possess a natural leadership ability.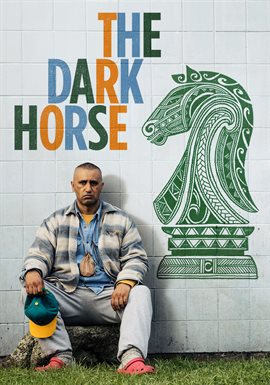 The Dark Horse (HOOPLA Digital)
Genesis seeks out an old chess buddy, who runs an after-school chess club for local kids and offers his services as a coach. ... The film is inspired by "Dark Horse," Jim Marbrook's 2003 documentary about Potini. Robertson spent time with the real life Potini while adapting his story into a dramatic feature. This title is available through HOOPLA, new users will need to register for an account.
What we do in the shadows
Vladislav, Viago, and Deacon are vampires who live here, among us. They are real vampires; undead, immortal creatures who stalk the night and search for human blood, preferably virgins. Witness the many horrid, abominable aspects of vampire life, such as hunting and feeding, vampire rivalry and fighting with werewolves, as well as normal night to night aspects that make them not so different from us like keeping the flat clean, jobs, shopping, meeting people and trying to fit in.
The Worlds Fastest Indian
Burt Munro, a Kiwi from far south New Zealand has been building and rebuilding his motorcycle for the last 40 years, dreaming of the day when he and the bike can go to Utah's Bonneville Salt Flats and see what they can really do. When Burt's heart goes bad on him, his dreaming is threatened to come to an end. Luckily, Burt is not ready to stop dreaming.
Holds can be placed online through the library catalog. To view other events related to Asian Pacific Heritage Month, please view our calendar. If you need help, please call 281-890-2665 and a staff member will assist you.