Get Crafty!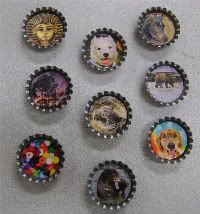 Last Saturday we had a great craft—we made Bottle Cap Magnets! They're so easy and fun to make. Here's what you need…
Bottle caps
Magazines
A Pencil
Glue
Scissors
A Quarter
Small Magnet
Look through your magazine until you find a small picture you like. It must fit within the size of your Quarter for it to be able to work! If it does, use your Quarter to trace a circle around your picture. Using your scissors, cut the picture out neatly so that it will fit within the inside of the bottlecap.

Now, trace a circle inside the bottle cap with your glue. Carefully insert the picture into the bottle cap, taking care to tap the picture down so it will set in place. To finish it off, all you need to do is dab a small amount of glue to the back and attach your magnet. Voila, once the glue sets you have a cute new bottle cap magnet!