Never Lose Your Place with a Beaded Bookmark!
Have you ever lost your place in your book because your bookmark fell out? If so, you should look into creating your very own beaded bookmark! They are very easy to make and a lot of fun—and boy do they look nice!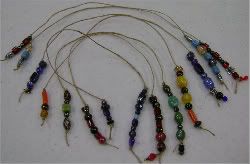 You will need:
18 inches of hemp cord
Various decorative beads with holes that the cord will fit through
A ruler
Scissors
Step one: Place the first knot about three inches up from one of the ends.
Step two: Bead this end of the cord for one to two inches. You will need to knot off the end so the beads don't fall off!
Step three: Going from the top of your beads to the other side of the cord, make a knot 10 inches away. This should give you 10 inches between the beads. (Enough room for this to fit snugly inside your book without any beads being on the inside!)
Step four: Bead about two to three inches of beads at the other end. It will be considered the "bottom" of your bookmark. Knot off when you are done beading.
Step five: Trim the cord about ¼ of an inch away from the end knot on both sides. Now you can enjoy your beautiful bookmark!