New Titles Were Recently Added!
Hello my fellow users of the HCPL Digital Media Catalog! I am happy to inform you that we had a nice addition to the digital catalog last night! There were over 400 eBooks added, over 100 eAudio added and a few videos as well as one or two music titles.
Because there is a limit of 200 titles in the new eBooks area, not all titles will appear there. Here is how to easily find all the titles that were added on January 26th, 2012. This is really only important for our eBook users. The new eAudio titles will all show in the "new eAudo" section on the homepage.
First go to the digital catalog. Next select the link for "Advanced Search" which is located just under the quick search box.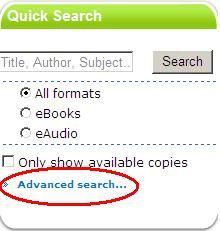 On the next screen, you have a few options you can do.
To limit your search to just eBooks, change the format to "Adobe EPUB eBooks." Kindle users can change it to the Kindle format if they wish, but selecting the "Adobe EPUB eBooks" will bring up all new eBooks INCLUDING the Kindle" format.
You can change the subject field if you want. Some subjects you may be interested in are "Juvenile Fiction." Young Adult," "Mystery," "Romance" etc.
Next is the important one. Change the "Date Added to Site" Field to "Within the last 7 days." This will show the eBooks added on January 26. If you are unaware of the titles added earlier this month, you may want to change the search to "within the last 30 Days." I personally like to change the "Results per page" field to "25" instead of "10" so more titles appear at once.
Enjoy the new titles!
SPECIAL THANKS to FOLK: Friends of the Library Kingwood for funding the purchase of additional titles for this collection!