I have always known who Sherlock Holmes was.  I mean, who doesn't know who Sherlock Holmes is?  His name is an integral part of our pop culture.  Who hasn't used the phrase, "Elementary, my dear Watson," at some point or other? (Although I have since learned that that was not a direct quote from the book, but was used in the Basil Rathbone movies. Still, it's a most excellent saying and I will continue to use it.) 
While I've always known about Holmes and Watson and had seen some of the old Basil Rathbone movies, I had never actually read the stories penned by Sir. Arthur Conan Doyle.  Then in 2018-2019 I read all of Sir Doyle's Sherlock Holmes stories.  I loved them and I was very surprised to learn that most of them were short stories, written for The Strand Magazine and published between 1891-1927.  I enjoyed the short stories and found I could reach one in about an hour.
I was now a Sherlock Holmes fan.  I was intrigued by Holmes' cold, calculating, deductive way of thinking and I loved Watson's warmth and honor.  The cast of recurring characters of Inspector Lestrade, Mrs. Hudson, Inspector Bradstreet, Mycroft Holmes, the incorrigible Baker Street Irregulars, and the infamous Moriarty make these stories exciting and enduring.
After reading all the stories by Sir Doyle, I wanted more.  More Sherlock Holmes!  To my delight, I learned that there are many other books that feature Sherlock Homes to some degree or other. In fact, in May 2012, the Guinness Book of World Records awarded Sherlock Holmes the title for the "Most portrayed literary Human Character in Film and TV."  And that doesn't even take into account Holmes' portrayal in theater and other literary works.  
Personally, one of my favorite non-Doyle Sherlock stories has been The Daughter of Sherlock Holmes series by Leonard Goldberg.  Join Dr. John H. Watson, his son, Dr. John Watson, Jr, and the beautiful, and incredibly intelligent daughter of Sherlock Holmes, Joanna Blalock Watson as they solve the most desperate crimes in London as the world is on the brink of WWI.
What else can you read if you are like me and can't get enough Sherlock Holmes? It's elementary, my dear Watson, just check out these books:
  The House of Silk by Anthony Horowitz – notable for being the first Sherlock Holmes novel officially authorized by the Arthur Conan Doyle Estate.

  Dust and Shadow by Lyndsay Faye – what happens with Holmes and Watson are pitted against Jack the Ripper?
  Art in the Blood by Bonnie MacBird – Holmes and Watson travel to Paris to investigate the disappearance of the son of a wealthy family.
  Sherlock Holmes: the Four-Handed Game by Paul D. Gilbert – Mycroft has gone missing and Sherlock Homes will need Watson, Lestrade, and Bradstreet to help him tackle a murderous organization.
  The Daughter of Sherlock Holmes by Leonard Goldberg – Joanna Blalock seems to have inherited her father's incredible mind.  She's going to need it to capture a notorious murderer.
What about the kids?  It's never too early to get them into the Sherlock Holmes stories.
  Classic Start The Adventures of Sherlock Holmes by Chris Sasaki
  Sherlock Holmes and the Disappearing Diamond by Sam Hearn
  Sherlock Holmes and a Scandal in Bohemia by Murray Shaw
  The Eye of the Crow: The Boy Sherlock Holmes by Shane Peacock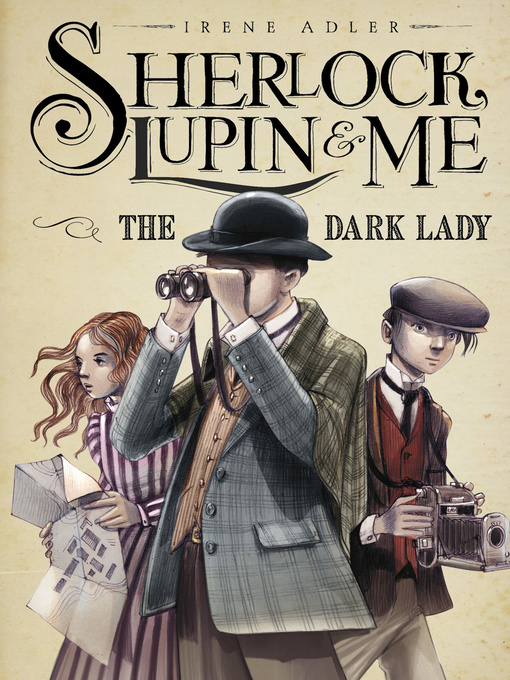 Sherlock, Lupin and Me: The Dark Lady by Irene Adler
Want to watch Sherlock and Watson as they fight crime and bring justice to London?  These most excellent videos are available to borrow from the library.  There are many film adaptations of Holmes and Watson.  It's hard to pick a favorite.  However, I personally prefer the TV series starring Jeremy Brett or the movies starring Basil Rathbone.
  The Casebook of Sherlock Holmes (TV series) starring Jeremy Brett as Sherlock Holmes. 
  The Adventures of Sherlock Holmes/The Scarlet Claw  starring Rathbone as Sherlock Holmes.
 Sherlock Holmes starring Robert Downey Jr.
 Sherlock Holmes Collection (TV series) starring Ronald Howard
 Sherlock (TV series) starring Benedict Cumberbatch